March 2020 was a long month. Whilst it made our jobs here more exciting than normal, sadly there has been human tragedy. I suspect that we are all a bit fatigued by Coronavirus information so will try and make this brief...
We can ignore data from the Chinese outbreak. Long suspected by us as being dubious (they started building 2 new hospitals after only 17 official deaths), it is now all but confirmed as a work of fiction, despite the media insisting on continually benchmarking against it.
Below is the most accurate Coronavirus chart I have seen: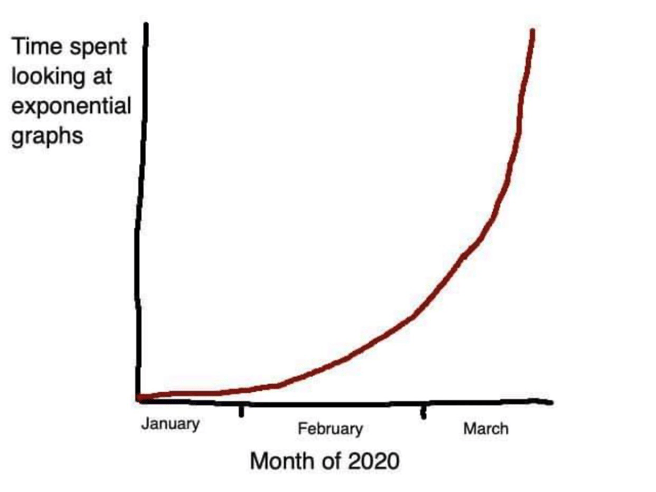 Source: Dom Joly (Twitter)
Sadly, the most important charts to be looking at are mortality numbers, particularly those coming out of Italy which, as we know, is a grim lead indicator. Importantly, as of Sunday 5th April, it will be 4 weeks since Italy imposed strict lockdown and this is the point after which we should hope to see death rates start to fall and 'the curve flatten'. If this happens it should give confidence to markets, whilst they remain cautious of a 'second wave'.
Some bulls like JP Morgan and hedge fund manager Bill Ackman have called the bottom of the market while others point to quarter-end rebalancing by large managers with fixed asset allocations as the driver of recent equity rallies. Next week should tell us a lot, but we can expect more volatility in the short term.
What does this mean for our portfolios?
Whether we are at the end of the beginning or the beginning of the end there are, no doubt, some deeply discounted assets to be picked up. The fund manager of one of our largest holdings commented "I imagine that the current sell-off will be seen as one of the great equity investment opportunities in our lifetimes". Central banks are pulling out all the stops and flooding the system with trillions of dollars. Gavekal Research commented "As the pandemic fears recede the markets will go back to pricing in a more normal economic backdrop. Markets are yet to incorporate in their pricing calculations the enormous amount of new monetary, fiscal, and energy stimulus in the system. Enormous may not be the right word. Gargantuan is probably more on the mark".
An interesting chart is the 'Insider Buy/Sell ratio' which measures the amount of buying versus selling by 'corporate insiders' (who have to notify sales and purchases of their own stock) such as board members etc. Typically this ratio is below 1, meaning that these insiders are selling more than they are buying. It is currently at 1.56 (above 1 shows more buying than selling) which is the highest it has been since 2009, suggesting that insiders believe their share price represents better value and are buying more than at any time in the previous 11 years.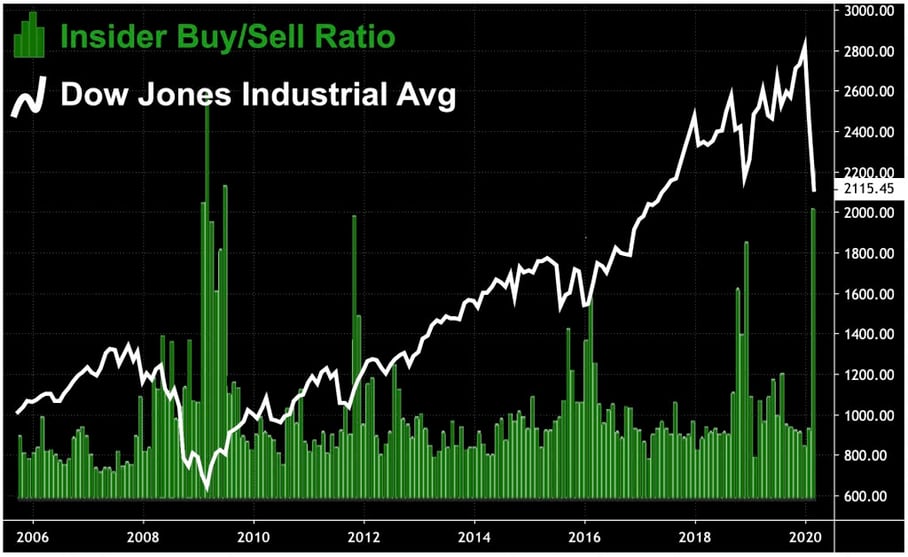 Source: Zerohedge
Portfolio Positioning
We have repositioned the portfolio to discard sectors which will struggle post Covid-19, including insurance. We've added to themes that will particularly benefit (or be unaffected) from a post pandemic world, for example digitalisation, automation and pharmatech.
We have also taken the opportunity to buy more investment trusts which have been affected disproportionately due to liquidity and trading volume. One example is LXI which owns distribution warehouses and is now trading on a significant discount to net asset value (NAV) having typically traded at a 15% premium. Another example is TwentyFour Credit (now offering a 13% yield) which is run by a small team who we consider to be the best in the business and own a significant proportion of the trust themselves.
As always, we continue to concentrate on companies which have strong balance sheets and low leverage. We continue to avoid oil, airlines and travel companies - there will undoubtedly be bargains to pick up in these sectors but at this stage it is a lottery as to which companies will survive.
Whilst markets remain volatile, we expect that in the coming weeks and months markets will bounce and we intend to fully participate in the upswing for our clients. At this stage however, we are maintaining caution.
A new fiscal year begins next week, ISA allowances remain at £20,000 per adult but have increased to £9,000 per child. If you would like to get these done nice and early then please just let us know.