How likely are further interest rate rises?
Interest rates rose in 2018, both in the UK and internationally.
Last year, the US Federal Reserve (Fed) increased interest rates three times, lifting the benchmark target rate to 2.00% - 2.25%, while in the UK, the Bank of England has lifted interest rates once, to 0.75%.
In our last article, we looked at the reasons why interest rates are now rising after such a long period of rock-bottom rates. We explained that central banks use interest rates as a 'monetary policy' tool to control economic growth and inflation, and that with the global economy showing signs that it has recovered from the Global Financial Crisis (GFC) a decade ago, interest rates are now being increased in an attempt to moderate growth and inflation.In this article, we will look at the outlook for interest rates going forward and examine whether further interest rate increases are likely in the near term.
US interest rates
Starting with the US, we believe that it's highly likely that the Fed will continue to lift interest rates in the short term, as US economic growth has been strong this year and unemployment is currently very low.
While inflation in the US is currently in line with the Fed's target of 2%, growth in the third quarter of 2018 was measured at a higher-than-expected annual rate of 3.5%, and consumer spending, which accounts for over two thirds of economic activity in the US, grew by 4%, its strongest growth since the fourth quarter of 2014. Unemployment is at its lowest level in around 48-year lows.
The Fed left interest rates unchanged in November, however, in its latest policy statement, it noted that economic activity has been "rising at a strong rate" and reiterated its outlook for "further gradual" rate increases. It also removed the word 'accommodative' from its statement on interest rates.
As a result, the consensus opinion among economists is that the Fed will increase interest rates one more time this year, in December, and potentially lift rates two to three times in 2019. This means that interest rates in the US could rise to around 3% by this time next year.
UK interest rates
In the UK, the short-term interest rates trajectory is a little harder to predict, due to the economic uncertainty related to Brexit.
UK economic growth has been solid this year, with growth in the third quarter coming at 0.6%. Meanwhile, unemployment has fallen to a low level of just 4% – its lowest rate since the mid-1970s. This has placed upward pressure on both wages and inflation, with UK pay growth rising to 3.1% in October, and inflation remaining above the Bank of England's target rate of 2%, as seen in Figure 2 below.
Figure 2. UK inflation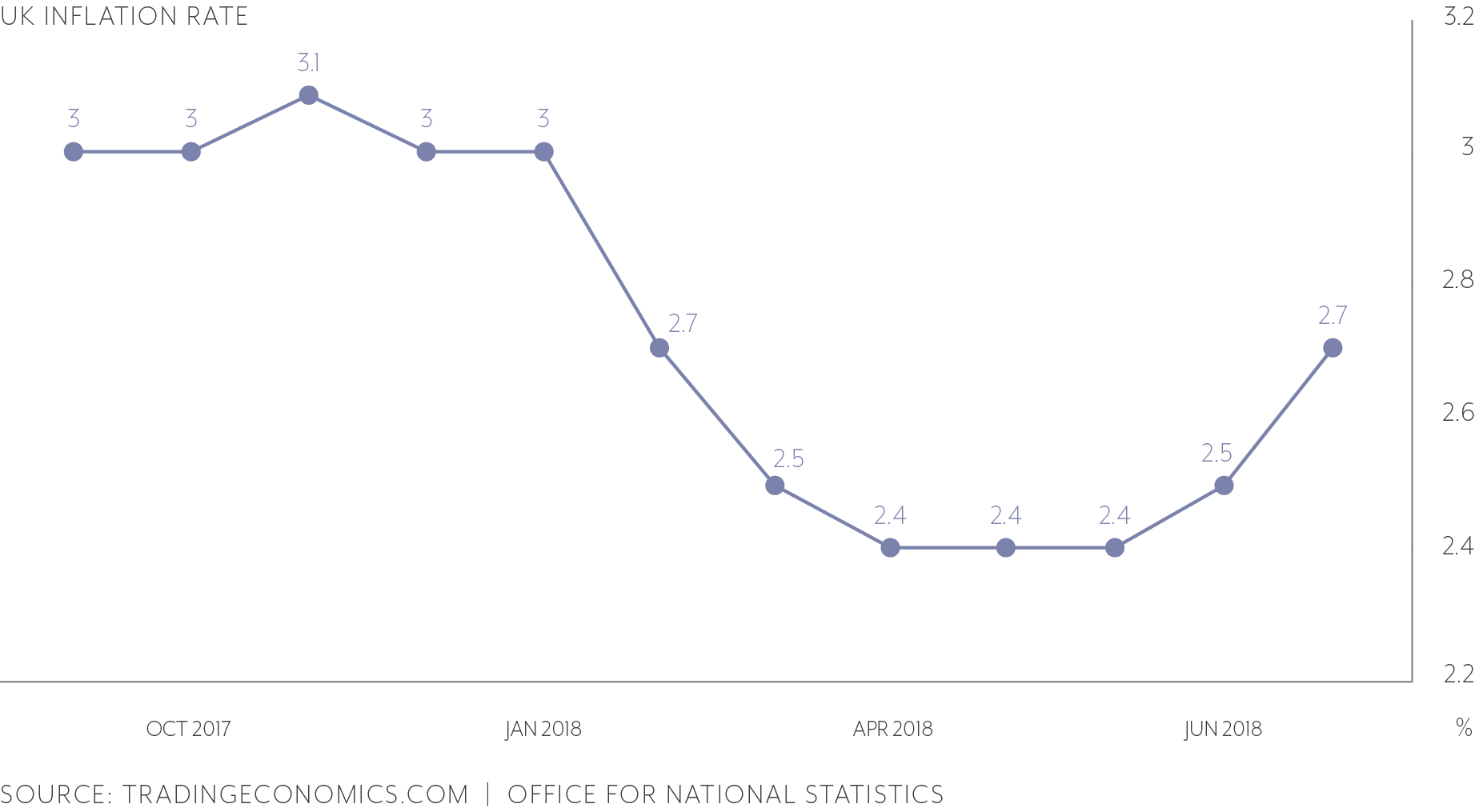 Under normal circumstances, these buoyant conditions could be enough to warrant a further interest rate increase from the Bank of England.
However, Brexit makes the case for higher rates more complicated as there is significant uncertainty as to how it will play out right now. At this time, neither the Bank of England, nor anyone else for that matter, can predict what will happen with Brexit or how it will impact the UK economy and inflation.
As such, we believe it's possible that the Bank of England may choose to wait and see what happens with Brexit before lifting the base rate again.
It's also worth noting that the UK economy today is most likely far more sensitive to changes in interest rates than it was in the past, simply because a whole generation has become accustomed to near-zero interest rates and access to cheap mortgages and loans priced off rock-bottom rates. Therefore, it would be prudent for the Bank of England to take a cautious approach when lifting interest rates in the future.
That said, some economists believe that we could potentially see up to two interest rates increases in 2019, and that rates could possibly rise to around 1.5% over the next three years – double what they are today. However, the exact timing of any near-term UK interest rate increases is nearly impossible to predict at this stage, due to the uncertainty over Brexit.
Implications for UK savers and investors
One thing that is important for UK savers and investors to acknowledge is that even if the UK does not lift interest rates in the short term, those in the UK could still be impacted by rising interest rates in the US, simply because the global economy is so interconnected today.
Rising interest rates in the US are likely to have a wide range of ramifications across the world, affecting many different asset classes, and this is a topic we will be exploring in more detail in our next article.