Early in June we had a continuation of rising prices for risk assets as expectations of a decent economic recovery were underpinned by further lockdown easing in Europe and the US.
However, just when people thought it was safe to go back in the water, on the 11th June, we saw a 6% fall in the
US S&P500 Index
which reminded investors that the road to some form of normality will be bumpy.
Central banks continued to support investment markets with the Bank of England and European Central Bank adding to their quantitative easing programmes. Importantly, there was a change of emphasis in Europe, with Germany and France in particular relaxing their longstanding fiscal shackles aiding European equities.
The Fed's enormous (potentially irresponsible) stimulus package has inflated asset prices in large US tech stocks dramatically and many commentators believe these to now be in bubble territory, Q2 results are due in the next couple of weeks and Alphabet's (Google) results on the evening of the 23rd July will be of most interest at Featherstone HQ. We expect them to be poor, which could cause short term panic and some buying opportunities.
The poster child of the US tech bubble has been Tesla which is up a whopping 700% since its March lows. The CEO Elon Musk even tweeted "Tesla stock price too high imo" on the 1st May, and the value of the company has almost doubled since then. The chart below shows that the value of Tesla is now more than GM, Fiat/Chrysler, Honda, BMW, Nissan, Hyundai, Mercedes and Ford combined... very odd, but if Elon is indeed a time traveller as some suggest, perhaps it is justified?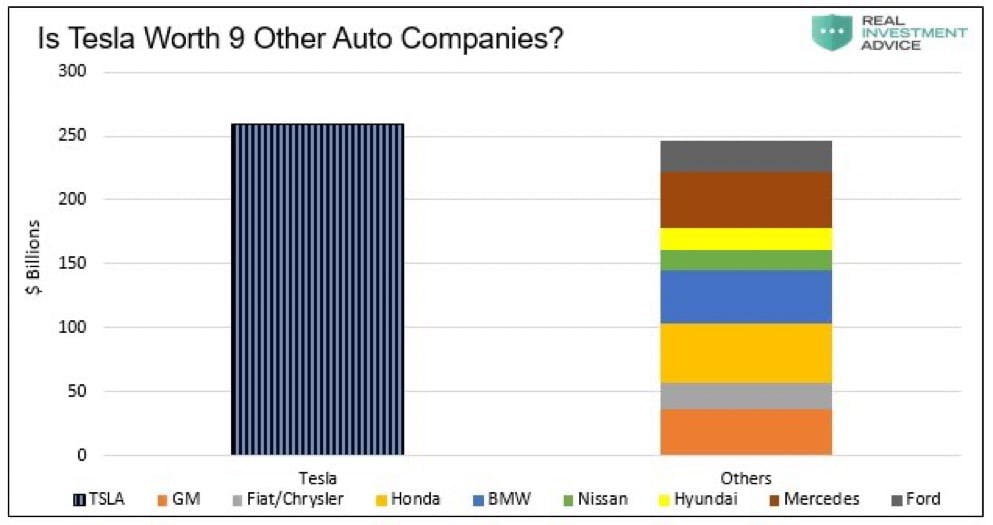 What does this mean for our portfolios?
Global equities rose by 2% during June, whilst our equity wealth management portfolio grew by 2.99% (now positive for the year while the FTSE is down circa 20%).
As we said before, smaller companies (some not so small in the US) who have the ability to multiply their value in the tech space are the companies that we are focused on. As the chart below shows, investment in the tech sector has been a big winner. In any industry, whether it be farming, retail or industrial production, companies who don't embrace technology will struggle.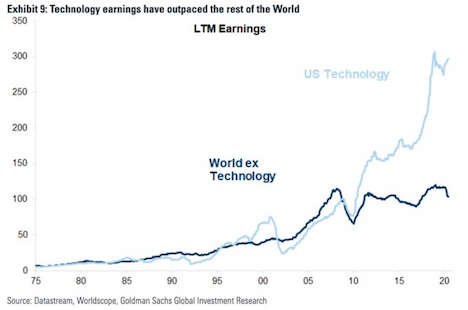 Gold and other metals continued their good performance. At the start of the month we had increased our holding in gold recognising mounting inflation risks from monetary policy.
Our team of financial advisors and wealth managers reduced our investment position in the Man GLG High Yield Opportunities Investment Fund, recognising the reduction in yields that had taken place in this asset class. Mounting default risks remain a concern, particularly as government support schemes are unwound.
We added to Hipgnosis Songs Investment Fund following an encouraging update from management and on the opportunity to buy a block of shares at a discount to NAV.
We remain conscious that a now inevitable second wave could bring further turmoil to markets and have one hand on the ejector handle at all times.

JUNE PERFORMANCE
Featherstone Steady Growth + 2.39%
Featherstone Sensible Growth + 2.53%
Featherstone Serious Growth + 2.99%