2020 continues its extraordinary trend and, so far, April has taught us that the price of oil can in fact go negative. With oil storage facilities around the world almost full, oil tankers moored up and production continuing, one unsuspecting futures trader in fact had to pay $48 per barrel just to avoid taking delivery of (presumably) thousands of barrels of oil from West Texas.
One (WTI) oil tracker fund has already gone into meltdown, how many more will go belly up if the 'crude' price goes negative? While crude oil has been as low as $11 per barrel this week (from an all time high in 2008 of over $140 and a more recent price of $62 in January), many commentators think negative crude oil prices are a serious possibility. According to Goldman Sachs, we are likely to see 'more spikes to the downside until supply finally equals demand'.
Oil has been a cornerstone of many conventional portfolios for generations, an astonishing 24% of all dividends from the FTSE 100 were paid by Shell (£11.6bn) and BP (£6.5bn) last year. BP increased debt significantly to over $51bn in the first quarter of 2020 to cover anticipated falls in revenue, which doesn't instil confidence about dividend sustainability. There has been a paradigm shift and the blue-chip income funds holding these kinds of assets, which often masquerade as being 'safe', have finally been exposed as charlatans. We have not had any exposure to oil recently, preferring to focus on more sustainable energy technology.
Elsewhere, the combined market caps of digital titans Amazon, Apple, Alphabet (Google), Microsoft and Facebook now make up an astonishing 20% of the S&P 500, a larger concentration than at any time in history (see chart below). Suggesting that the recent rally in US stocks has been driven by a few select companies rising while many of the others remain decimated. The pandemic has acted as a catalyst and accelerated their dominance to the detriment of various already doomed sectors including conventional advertising, 'the high street' and commercial office space. These companies are all reporting earnings this week so we are likely to see more volatility to US markets.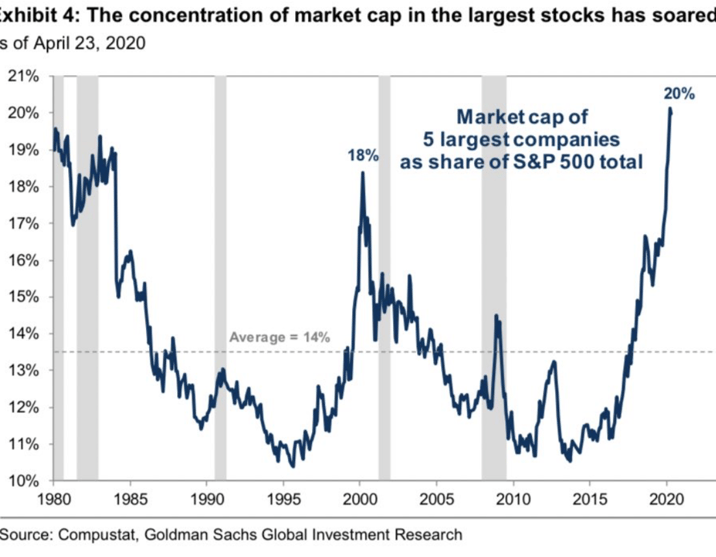 What does this mean for our portfolios?
April has been a good month for our portfolios, many companies within our prefered themes have shrugged off their March lows and have started to recover. In areas such as online retail, digitalisation and automation, lockdown does not seem to have impinged upon innovation or appetite and markets have begun to realise this. Furthermore, we expect government spending in areas such as bio-tech, pharmaceuticals and healthcare to increase enormously in the wake of this pandemic, again these are areas that we have been focusing our guns.
Whilst there are sectors which will be unaffected (or even benefit) from the pandemic, there are others that will clearly not. In our last update we mentioned that we had sold our insurance sector exposure which has since contracted 7%, this month we have reduced our emerging market exposure. Our belief is that during recovery many developed economies will become more protectionist and this will be to the detriment of those emerging economies. We have re-deployed the capital to invest with more focus in technology by adding to our existing holdings in this space

Online Valuation
In keeping with our portfolios' 21st century lilt, we have used lockdown to create an online client valuation platform, we have developed this ourselves which has taken considerable time but we believe that it is significantly better than what is available 'off the shelf' and will not lead to additional platform costs for our clients. Obviously digital security is of paramount importance and we are currently testing the security of the portal before it is released. We will send login details as soon as the testing phase is complete.
Stay safe, go well.
James

APRIL PERFORMANCE (To Date)
Featherstone Steady Growth + 6.23%
Featherstone Sensible Growth + 7.18%
Featherstone Serious Growth + 9.81%